Upcoming IMPORTANT DATES for your Crypto Calendar in OCT 2017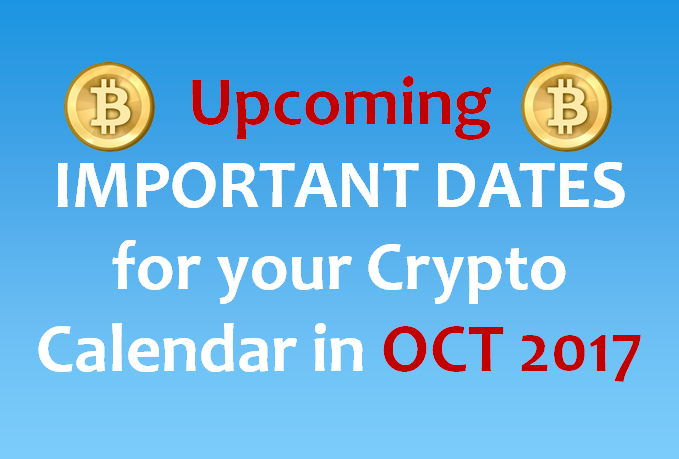 Upcoming IMPORTANT DATES for your Crypto Calendar in OCT 2017
Oct 1 2017
DigiByte (DGB) - Releasing new website
Oct 2 2017
DigiByte (DGB) - CityBank calling a winner
Oct 2 2017
TokenCard (TKN) - Beta Release
Oct 2 2017
Binance will add XVG/BTC and XVG/ETH trading pairs
Oct 2 2017 - Oct 3
Einsteinium (EMC2) - The rise of ICO conference in Austria
Oct 3 2017 - Oct 5
Einsteinium‏ (EMC2) - Blockchain solution forums conference in Spain
Oct 3 2017
Nem (XEM) - Forum blockchain solutions Barcelona
Oct 4 2017
Qtum (QTUM) - ERC20 to Main Net Token Swap
Oct 6 2017
Einsteinium‏ (EMC2) - Burns 55 million coins / Eliminates Wormhole
Oct 6 2017
Basic Attention Token (BAT) - Mercury Update
Oct 8 2017
RedPulse (RPX) - ICO Sale Starts
Oct 10 2017 - Oct 11
Einsteinium (EMC2) - Blockon conference in California
Oct 14 2017
Einsteinium‏ (EMC2) - Blockchain Adria conference in Croatia
Oct 14 2017
Binance buyback for BNB - Binance will use 20% of their quarterly profits to buy back BNB at the current market price at that time.
Oct 16 - 18 2017
Ripple announcing Swell - keynote speakers Dr. Ben Bernanke and Sir Tim Berners-Lee
Oct 25 2017
Bitcoin Gold (BTG) - Exodus Fork
Oct 26 2017
Inaugural Global Fintech & Blockchain China Summit 2017
Oct 26 2017
Amazon announces earnings, and James Altucher has written that he believes there is a very high likelihood of them announcing something about crypto.
If i missed something please let me know....